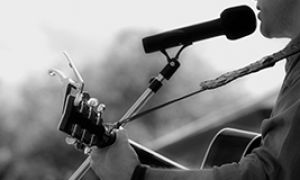 Jeremy Willis brilliantly crafts history, storytelling, and humour into musical compositions that reflect the modern cowboy and his ties to the past. As a passionate artist, Jeremy Willis's music is upbeat and modern; fused with the messages and traditions of the old time cowboy. As a long time performer, Willis' music not only entertains, but often carries a message that provokes debate.  
Jeremy Willis, who grew up in the Interior of BC, retains strong roots in the ranching community. At an early age he was musically influenced by his uncle, Jim McMurphy, and at the age of 18 began playing guitar. He began his career in the 1990's performing in talent searches, and making local appearances in the BC Interior. He spent many years as a DJ with the Country Thunder Music Company, and performing at country events, rodeos, and western weddings. As a current resident of Clinton, British Columbia, Willis divides his time between writing, offering DJ and MC services, and performing.
In 2010 Willis embarked on creating something lasting with his family in mind.  His debut album, Remembering Christmas, quickly became the 'little album that could' as its warm production and authentic writing resonated with audiences. As Mark McMillan, Chairman, Kamloops Cowboy Festivals states, "the message behind [these songs] goes much deeper." Media interest also grew with feature stories in Kamloops Daily News, 100 Mile Free Press, and CFJC TV.  
The four originals on the album have resulted in many firsts for Willis; syndicated radio airplay on The Spirit of the West radio programme covering western Canada and US markets; first commercial radio airplay for "Christmas Afghanistan," which played throughout the interior's Country 103 and the Wolf chain of broadcast centres; national radio airplay on CBC Radio.  Willis also enjoyed radio airplay and streaming internet radio plays in the US, England, Ireland and his first overseas sales both physically and digitally through CD Baby and iTunes.
Increased recognition also came from the agricultural community in publications such as British Columbia's Cattemen's Assocation and the Charolais Connection. Willis performed Remembering Christmas and other writings across BC and Alberta in venues such as the Kamloops Cowboy Christmas Concert, Barkerville Drovers Jubilee and the Cariboo Cowboy Concert.  
Presently, Willis is preparing for an upcoming album, "Crossbred", and looks forward to the creative process with local Canadian musicians. Employing modern digital techniques Willis creates a retro feel that blends fiddles, steel guitars, electric and acoustic instrumentation. With his unique and humorous style, Willis provokes debate about the misconceptions surrounding the life of the modern cowboy.  It's with intent and skill that Willis combines the art of storytelling with the traditional cowboy and country music genres.